10 Tips on Maintaining and Restoring Hardwood Floors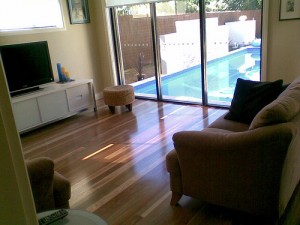 One of the most popular floor choices is the hardwood option. These make for beautiful and sturdy floors. However, even hardwood isn't invincible. Damage can occur and if it happens you'll want to make the repairs to keep those floors looking great. Here are some tips on how to fix scratches on hardwood floors and generally maintain excellent quality floors. Some thoughts on how to sand hardwood floors is thrown in for good measure.
10 Tips on Maintaining and Restoring Hardwood Floors
1. Surveying the damage is the first step. How big a job are you facing? Only once you have an accurate appraisal of the situation, can you formulate a plan.
2. As with most home repairs, you have to be honest with yourself about your capacities. Is this something you can do yourself? Or do you need to bring in a professional? Doing it yourself is great and cheap and when successful provides a wonderful sense of accomplishment. If though you get in over your depth, it can be a big hassle that winds up being expensive and demoralizing. It's less expensive to have the professional do it from the start than having to repair damage you've inadvertently contributed to the original problem. If you do decide to go with a professional, be sure to see the HIR tips on hiring a contractor.
3. The first step in maintaining excellent floors, of course, is to avoid damage in the first place. But, let's face it, for the average family, with children and pets running about, it's pretty difficult to maintain pristine hardwood.
4. For the usual scuffs of life, you might get the job done with a good waxing or buffing (or both). If there's more damage than that though, you'll need to refinish, which means sanding.
5. If scratches or dings are in the wood, refinishing is the next step.
6. Before you get to the sanding, you'll want to fill cracks and gaps in hardwood. Be aware, though, that due to variations in temperature and humidity your wood expands and contracts to meet the conditions. Therefore some small gaps and cracks actually do serve a purpose. In the drier winter months cracks and gaps become more visible. The summer humidity can cause them to virtually disappear. Large cracks in the summer, however, will mean even larger ones in the winter. That requires action. Fill in the gaps at the ends of the planks; wood doesn't expand much lengthwise.
7. In preparation for sanding, be sure to remove everything that isn't nailed down. Then do a thorough sweep of the floors to be sanded. Pull out any leftover carpet staples with pliers or hammer any protruding nails to below the floor surface. Failing to do so may cause damage to the sanding machine.
8. You can leave the baseboards, unless you have plans to replace them.
9. Hanging plastic sheets over the room's doorways and rags or towels under doors and over vents will minimize the spreading of saw dust from the sanding.
10. Finally, before you actually begin sanding, take a walk across the completely emptied floor with an ear for finding any creaks or squeaks or cracks. These can be repaired with a well placed nail. All the minor repairs should be completed before sanding. From there, you follow the manufacturer's instructions and sand away.
BONUS TIP: Be aware that wood floors can only be refinished so many times; each sanding literally thins out the wood, removing a layer. Check at floor edges or around a heat register to see how much wood remains.
Hope these tips on how to how to fix scratches on hardwood floors and how to sand hardwood floors, helps you with your projects for restoring hardwood floors in your home.