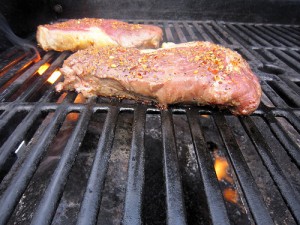 If your family is like mine, one of the great pleasures of the summer is the opportunity to do a lot of eating and cooking out of doors. Having a great outdoor gas grill is the centerpiece of the tasty outdoors life. Knowing what is the best barbeque grills, which are the most suited for your needs and how to buy a grill are all important considerations for getting all set up for summer. We hope these tips help.
5 Tips on Buying Outdoor Gas Grills
1. One thing you have to give serious consideration to is the cooking area on your grill. Better to choose one with a cooking surface that matches the usual, routine needs of your cooking. Don't buy for the massive barbecue party that frankly you only really end up having maybe once or twice a season. When shopping around, be sure you understand what is meant by a description of the cooking area: some companies might count warming racks and searing burners in their claims.
2. BTU is important, but not everything. They do indicate the amount of fuel a gas grill uses and even the heat it can create. This is important to consider, however tests have shown that having more BTU does not ensure either faster preheating or better cooking.
3. Also, exercise caution around infrared claims. These burners are marketed for their emitting of intense heat to sear and cook food. Despite the differing designs of various manufactures, the independent product research has not found any individual infrared burner design to be superior to any other. Nor, indeed, have they been bound to be superior to standard burners. So take a grain of salt with your grill.
4. Never compromise on safety. One test is to gently nudge a grill in several places for some sense of its overall sturdiness. Check for sharp corners and edges. Also, to test the weight support of the side shelves, press down on them with some real pressure. Be aware that typically the greater the distance between the grates and the burners or flavorizer bar, the lesser the amount of flaring you may expect while cooking.
5. Finally, if outdoor gas grills are just a bit out of your budget for this summer, keep on the lookout for the end-of-season sales. You can find some great deals and be ready to go for next summer.
Knowing what is the best barbeque grills, most suited for your needs and how to buy a grill are all important considerations for choosing the best among available outdoor gas grills for your family's needs. We hope these tips helped.
Below are some of the best deals currently available for a wide range of great outdoor grills. Hope you found this info helpful.
Last updated on August 15, 2023 1:44 am