Few images invoke the simple luxuries in life more than sitting in the cozy alcove of a bay window as the sun streams in while one reads or knits or lazily contemplates the passing of the seasons. If you find yourself longing for your bay window seats, here are some bay window ideas to aid in the bay window construction project that can realize your yearning.
7 Great Bay Window Ideas  
What is a bay window? Great as these classic ones are in the photo, these days bay windows conform to more modest criteria. It is actually three separate windows that have been joined by the manufacturer into a single unit. The angled bay window, which protrudes from the house and slants back toward the wall at a 30- or 45-degree angle, is he most commonly seen style. Another alternative is the box bay in which the side sash comes straight off the house at 90 degrees.
What Size? Generally, the bay window comes in hundreds of standard and custom sizes. So the space you have in mind will probably work. The standard sizes typically range in width from 3 feet 6 inches to 10 feet 6 inches, and in height from 3 feet to 6 feet 6 in.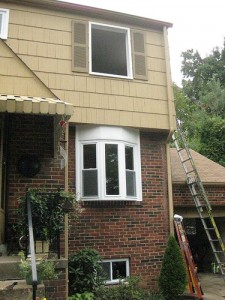 What Materials? The most popular materials for bay windows are wood or vinyl. There are a variety of exterior finish options. Primed-wood windows are economical, but keep in mind that they must be painted and periodically scraped and repainted to prevent rot. Vinyl windows are certainly affordable and save you the maintenance work of wood. However, they do tend to have a distinctly vinyl look, which doesn't appeal to some people. Clad windows will certainly hit you harder in the pocket book, but they provide the double benefit of low-maintenance and an appealing all-wood interior.
What type of sash? It's probably a good idea to have the bay sash match those on the other windows in the home. Straying from this, though, is not a major aesthetic faux pas. You may want your bay window to standout in the room. You may find that taller, narrower bay windows look better with casement sashes, while shorter units are more attractive with double-hung sash.
How is the window supported? It hardly seems pleasing to have your bay windows ideas ruined by having it falling off the house! Don't worry, that won't happen. But bay windows do have very specific support needs. They must be either supported from below with braces or from above with steel cables bolted to the overhead framing. Either approach will do the job. It's generally felt, though, that support cables are much less obtrusive since they're hidden inside the window frame. If your manufacturer doesn't offer support cables, don't fret, they can be bought separately and adapted for use on pretty much any bay window.
Check out the eave above the window! Before deciding on a particular bay window, measure the depth of the eave horizontally. Be sure to order a unit that's shallow enough to fit beneath. Most 30-degree bay windows are 12 to 14 inches deep, and 45-degree units range from about 16 to 22 inches deep. Box bays and 60-degree bays usually are about 18 to 24 inches deep. Bay windows need the eave for protection, but if you don't have one, you can add one. A small roof, or skirt, must be built over it. Roof skirts must also be built above any window that sticks out beyond an overhanging eave.
Who's the Man? There can be some intricacies and idiosyncrasies when it comes to installing bay windows. If you're using a contractor, be sure he has the required experience. As always, when looking to hire a contractor, be sure to review the HIR tips on contractor hiring.
Hope these bay window ideas, about approaches to bay window construction give you some useful insights in how to built a bay window, so that you can look forward to those long hours of peaceful contemplation from your bay window seat.