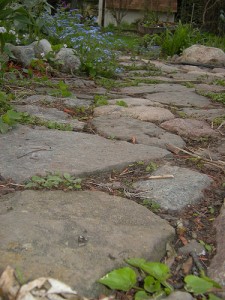 If you have a natural upgrade or downgrade in your yard, or indeed should you choose to land space one into the yard to get a more textured feel in your outdoor space, it might be a great idea to add some outdoor steps. These tips on building a staircase outdoors and using natural stone steps might be just the thing to improve both the beauty and accessibility of your yard or garden.
8 Tips for Building Outdoor Steps in Your Yard
1. Natural stones can make for a great natural staircase. If done right it will blend and complement the surrounding flora. In choosing the stones, pick them as thick as the desired rise of each stair. This provides the maximum stability and comfort.
2. Finding the stones yourself in a natural setting, where you can take them for your own use, can be a lot of fun, though a bit of work if you're not accustomed to the lifting. If you don't have access to such an area, or just can't find the stones you want in such an area you can always purchase pre-cut stones from a builder supplier or quarry.
3. You'll want to start by digging out the area for the first stone at the base of the hill. Check that it is level. You want to place the flattest side of the stone face up. It will be necessary to dig out extra soil to compensate for the protruding parts on the part of the stone you have facing down. Add or remove soil from under the stone as needed and pack the soil tight around the bottom edges.
4. Now dig out the hill to make room for the second step; dig it out so the soil is level with the previous laid stone. Set it in place in the graded area. You want to ensure that the front of this second step slightly overlaps the back of the previous stone.
5. Continue in this manner until you've reached the top of your hill.
6. It is important to pack soil firmly into the cracks between the steps. Also, if the stones are wider than the path that you wanted to create, you can cover the extra length at each end with 3 to 4 inches of soil.
7. The next step in the step making process is to plant groundcover on either of your stone stairway. This is important both for its aesthetics and to prevent erosion of the soil gripping together your steps.
8. A great finishing touch would be to add a handrail. You could use rustic wooden posts and rails to enhance the look of your new the natural stone staircase.
We hope these tips for building outdoor steps, using natural stone steps, help you with  building a staircase outdoors that complements the beauty of your yard and provides you the comfortable access that you need.