Samsung Galaxy S8
Update - 2018.08.08
See the original
review here
, six months later it's still holding true.
This is a great review, I actually used it almost six months ago when I was looking to upgrade my phone from at the time the Samsung S7 Edge I was using. The folks at Android Central looked at the Samsung Flagship 10 months after release and sure as heck seemed to hold up. Now another six months later it really seems to be holding up perfectly fine. With the Samsung S9 just around the corner, is it time to trade up? Maybe not, please read further and make up your own mind.
It's been 10 months since we published our full review of the Galaxy S8 and S8+. In that time, several other great phones have launched into the world, and we've compared the Galaxy S8 to all of them. As I write this, we're less than two weeks away from the Galaxy S9 being unveiled — and yet, the Galaxy S8 is still in the conversation. Samsung's brand is so strong that average people are looking at buying the Galaxy S8 from carrier stores even today — and Samsung hasn't exactly placed big discounts on this phone to reflect its age.
But for those who read Android Central, we know the Galaxy S8 is relatively old news. So as we get ready to see what's next, it's time to look back on several months of using a Galaxy S8 — to see what's held up in light of new phones and extra time using it, but also what frustrations have stuck around and formed over time using the GS8.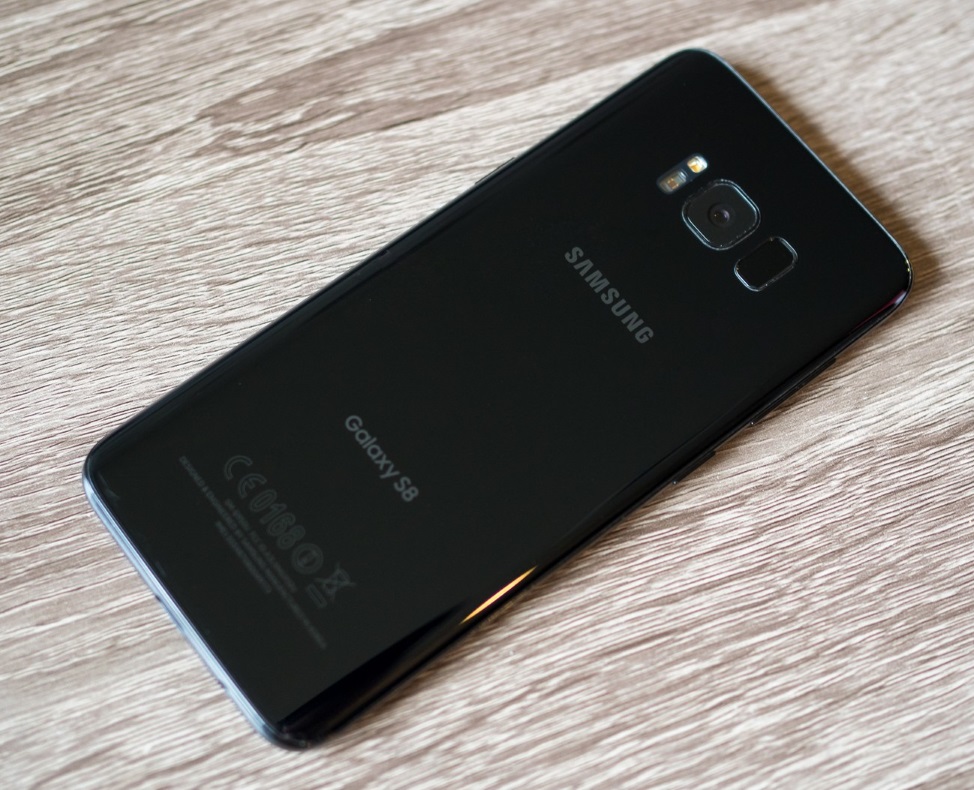 Samsung Galaxy S8 What I still love
As is so often the case with modern high-end phones, there's far more that I like than have complaints about. The Galaxy S8's fundamentals still hold up phenomenally well as it approaches its first birthday. It starts with the size and hardware, which is refreshing in a world where phones are still, with a few exceptions, very large. The standard Galaxy S8 is easily manageable in one hand even though it has a super-tall 18.5:9 aspect ratio display. It's impressively thin and light, and never feels like a chore to hold and manipulate. I haven't even had issues with the curved sides on the screen, which I think is a result of the phone being small enough that I'm rarely reaching to tap anything.
The Galaxy S8 is refreshingly small, light and easy to handle. And the hardware is beautiful.
Concerns about its fragility aside (I'll get to those later), this is still a gorgeous phone design. The smooth curves and perfect integration of the metal and glass are still fantastic, even though it has come to be a bit more pedestrian as you see these out in the wild every single day. Particularly in this black color I've been using, this is just a classy looking device with excellent proportions and no big distractions.
After taking a break from the Galaxy S8 to use various other phones, one thing I appreciated upon my return to Samsung's flagship is that it gets all of the basics right in the hardware. 64GB of internal storage has been plenty, and I've tossed a microSD card in there as a backup storage option when I need it. It was a cheer-worthy moment to have a 3.5mm headphone jack again. Using wireless charging around the house — and especially at night next to the bed — was entirely natural to come back to.
And then there's the display itself. Yes it's been outclassed by Samsung's own Galaxy Note 8 in terms of brightness and colors, but the Galaxy S8 is still damn good nearly a year on. It's bright enough to handle direct sunlight, but also gets dim enough to not be harsh on your eyes late at night when you're trying to relax. Colors are punchy, and there are no issues with off-axis viewing as you shift the phone around. Samsung's displays have been good for so long I think we forget just how far ahead the company is with OLED — but using other phones throughout 2017 showed how even an "old" Samsung phone is still offering one of the best mobile displays out there.
The last part of the positive column is the camera experience. Right off the bat I can say the Pixel 2 has clearly jumped the Galaxy S8 in overall camera quality — from stills to HDR to panoramas to video recording. But that doesn't mean the Galaxy S8 is bad — it's still a great camera capable of some really good shots. I still enjoy the punchy colors it produces, and HDR still gets the job done. Samsung's camera app is easy to use, and I love little tweaks like using the shutter button as a zoom slider and holding the video recording button for a preview before capturing.
The Galaxy S8 just doesn't match the Pixel 2 in every aspect, like when it comes to sharpness on edges and color balance in very difficult scenes. Late-night photos just aren't as good on the Galaxy S8 either. But these differences honestly only reveal themselves when doing side-by-side tests with the Pixel 2. Right out of the camera on their own, I like what the Galaxy S8 can do and am rarely disappointed.
Now, the ball is back in Samsung's court to improve with the Galaxy S9. If the company doesn't up its game like Pixel 2 and other challengers like the Huawei Mate 10 Pro have, it will fall even further behind.
Samsung Galaxy S8 What I don't like
Why can't the Galaxy S8 just stay quick like the other phones on my desk?
Roughly three months into using my Galaxy S8 it became unbearably slow and only a factory reset would fix it. Curiously (not really), I had the exact same issue three months into my Galaxy Note 8 use. The second time around my GS8 has lasted longer before the performance faded, thankfully, but I still have hiccups and issues that I just don't expect out of a high-end phone. I'm not to the point of wanting to go through a factory reset, but it's still frustrating — why can't the phone just stay quick like the others on my desk?
Along the same lines, coming back to the Galaxy S8 after some time with the Pixel 2 has reminded me how poor battery life is on the GS8 (the GS8+, by most accounts, is good with longevity). Doing nothing particularly intense, with less than 3 hours of "screen on" time, my average day will get me down into 15% battery territory before I'm even thinking about turning in for the night. Throw in any type of music streaming, hot-spotting or Android Auto use throughout the day, and I'll most likely need a charger after dinner. A year on, this is the weakest point of the whole "performance" experience for me.
Outside of any performance concerns, I still feel like I have to fight the software far too often. People can get used to anything, and over 10 months (and years of using Samsung phones) I know my way around. But there are many tweaks, settings, pop-ups, quirks and hidden features to get acquainted with on this phone. Sure that means that more people will find that onething they want, but it comes at the cost of every Galaxy S8 owner carrying the baggage of extra features that they don't want.
Add in the duplicate apps that can't be uninstalled, and it's just a small layer of frustration between me and the apps and services that I want to use. Having to update some apps through Google Play and others through Galaxy Apps, or having weird photo quirks when using Google Photos as your gallery app of choice, is just grating.
Also, Bixby. I have turned off Bixby Home and disabled the Bixby button. I don't foresee coming back to using it. Part of that is just not wanting to talk to my phone at all — I rarely use Google Assistant either — but most of it is that every time I tried to use Bixby it wasn't as useful as Assistant. Then there's the issue of constantly pushing the Bixby button on accident and activating it when I didn't want to. It's just bad, okay?
Let's wrap it up with a couple hardware things to note. The glass on the back of my Galaxy S8 has been pretty consistently marred by regular use. The entire bottom edge of the glass where it meets the metal is extremely scuffed, and the top edge isn't much better. There are a few deep marks higher up that you can easily feel. I've never dropped this phone or treated it roughly, and a vast majority of these scratches have formed just in the first couple months of use — because after that point, I've gone to a super-thin case to protect it. The glass sure is beautiful and it lets Samsung keep this phone light and also include wireless charging, but it sure doesn't age gracefully without a case.
Also, you may have heard I'm not a fan of Samsung's fingerprint sensor placement. It's not good, and it's still tough to consistently reach. Samsung agrees, and seems to have remedied this by moving the sensor below the camera(s) on the Galaxy S9. Woohoo!
Samsung Galaxy S8 10 months later
With Samsung's position as the "go-to flagship" for anyone who isn't buying an iPhone, the Galaxy S8 had the goal to be more things to more people than any other phone out there. Samsung filled it with high-end specs, tons of features and lots of software to try and appeal to a wide swath of potential customers. And for the most part, those pieces all held together after 10 months of use.
Samsung did well, and the Galaxy S9 has a strong foundation to build on here.
Looking through the lens of an early-2018 phone buyer, the Galaxy S8's hardware is still really good. It's beautiful and easy to handle, the specs are more than capable for modern-day tasks, the screen is still great, all of the hardware features are appealing, and the camera is good even though it has been surpassed since it launched.
The battery life hasn't held up over time in light of what phones like the Pixel 2 can do with even less capacity. The glass on the back scratches with prolonged use, just as you'd expect. The fingerprint sensor never got any easier to use. The software isn't the best and can slow down over time, which is perhaps the least forgivable downside of the Galaxy S8. But those are relatively small marks on what has been a solid phone for me and tens of millions of other people over the past 10 months. Samsung did well, and the Galaxy S9 has a strong foundation to build on here.
There you have it guys, one of the very best and most comprehensive reviews out there on the Samsung S8. I have linked to the original review on the top of the page, please go visit Android Central they always have amazing reviews and we really respect the work they do there.
C $618.88
2 new from C $618.88
2 used from C $419.99
as of February 6, 2019 10:38 pm
C $589.00
1 used from C $463.00
as of February 6, 2019 10:38 pm
C $585.00
5 new from C $585.00
1 used from C $473.99
as of February 6, 2019 10:38 pm
Last updated on August 15, 2023 1:44 am