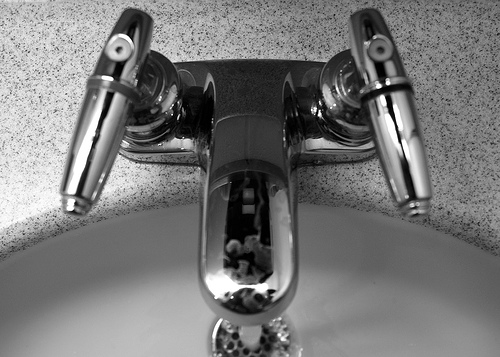 Quick and Easy Steps for Replacing Bathroom Sink Faucets
Sometimes even a small little addition can pick up the bathroom. Leaking faucets are annoying, waste water and if neglected can lead to further water damage. These quick and easy steps to bathroom facet replacement will give you the low down on how to change bathroom faucets with no muss or fuss.
Quick and Easy Steps for Replacing Sink Faucets
1. Using the stop valves, which for the sink are conveniently located underneath, to shut off the water supply. Check to ensure the water supply is indeed off by attempting to turn it on. If turning off the valves hasn't worked, you'll want to turn off the main water supply.
2. Disconnect the water lines from the back of the faucet. There will be an arm descending from the faucet that is connected to the drain stopper arm. This arm must be removed.
3. Now you can remove the faucet from the sink, employing a basin wrench. You will want to lift the faucet from the sink. Be sure to remove the nuts and washers from the faucet.
4. Now you can install the new faucet. Insert it into the hole. Whether the new faucet is of the sort that comes with gaskets or must be sealed with caulk, be certain that it is properly sealed before tightening the nuts and washers. Use the basin wrench again for this purpose.
5. Now it is just a matter of replacing the drain and water lines to your new faucet. After this is done, it is important to apply plumbers putty to the drain flange before connecting it. Once you've completed all these steps, run the water for a few minutes continuously as a test to be sure there are no leaks. Only once you are certain that there are none, solidly tighten up all the threaded parts once more for good measure.
Hope these quick and easy steps for replacing sink faucets gives you the low down on the down and dirty for how to change bathroom facets, so your next bathroom faucet replacement project flows as smooth as running water.
For more on this topic, check out Elite Plumbing Pros website discussion of best plumbing maintenance suggestions. Have a great day.