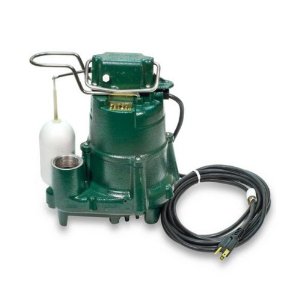 Zoeller Sump Pump Review: One of the best Sump Pumps on the Market
In earlier posts to Home Improvement Rocks, we gave you some great tips on water proofing your basement and managing storm water. Hopefully you got those in time to avoid any major disasters. However, in case you didn't, or there was a weather event that completely overwhelmed your preparation, a flooded basement is an awful thing that requires lots of work. The first challenge, though, is getting rid of the water. And for that you need a top of the line sump pump. In this edition of HIR, we offer you a review of one of the best sump pumps, the Zoeller 98-0001
. It's a great product when you need a hard job well done. Hope you find value in this Zoeller sump pump review.
One of the best Sump Pumps on the Market
Zoeller sump pumps simply are among the best rated brand in the business. This particular model boasts submersible cast iron motor and pump housing, a cast iron switch case, and a cast iron base. All these castings are class 25-30 with 25000# tensile strength. The M98 features an engineered plastic vortex impeller and a corrosion resistant powder coated epoxy finish. There are no sheet metal parts. This is an important consideration as such parts are prone to rust and corrosion. With attention to detail, the Zoeller 98-0001 even sports stainless steel screws, guard, handle, arm and seal assembly
Also, a feature you'd want to be sure of in purchasing any sump pump, the permanent slip capacitor motor is oil-filled and hermetically sealed. It has automatic reset thermal overload protection. The pump has a watertight neoprene square ring between the motor and the pump housing. The maximum temperature for effluent or dewatering is 130 degrees Fahrenheit. The entire unit is pressure tested after assembly. The Flow-Mate includes a float operated submersible (NEMA 6) 2 pole mechanical switch. For unusual conditions a reserve safety factor is engineered into the design of every Zoeller pump. For product and technical details, see here
No product is ever perfect and we wouldn't want to mislead you into thinking even this one works by magic. But as you can see, a tremendous amount of thoughtful engineering and design has gone into making this as good a sump pump as you can buy. Hope this review of one of the best sump pumps on the market helps you when you need a hard job well done.
Below you will find a few more sump pumps that are highly rated and across a range of prices, there is something for all budgets.
C $78.74
C $110.49
5 new from C $78.74
2 used from C $59.37
as of December 24, 2018 7:38 am
C $222.18
C $249.99
4 new from C $202.07
as of December 24, 2018 7:38 am
C $770.01
as of December 24, 2018 7:38 am
Last updated on September 20, 2023 2:17 pm